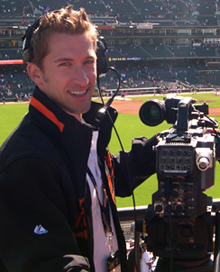 Hey, my name is Matt and this is my world. If you like it, I hope you'll stick around for a while. It's not such a bad place to be. I'm a pretty regular guy from the San Francisco bay area, CA. I draw cartoons, watch a lot of baseball, and generally try to be awesome. I do all the cartoons, comic strips, and movies that you see here. I also do all the web design and construction. I'm just one guy, but I try to update at least once a week. I've been working with the cartoons and characters of Raccoon Toons for quite a long time. So long in fact, that I should really be a better artist by now.
Raccoon Toons has been published in a few newspapers and publications. If you'd like to see it printed in your local newspaper, write to your local newspaper editor and tell them about Raccoon Toons and why you like it. And if you're an editor looking for a unique and new comic strip, then look no further. My work is available at a reasonable price.
I graduated with a BA degree in Film and an AA in Film/Animation. My diploma arrived by mail not long afterwards. It's the most expensive piece of paper that I own. I was kind of disappointed when it wasn't gold plated.
I've worked lots of varying jobs. I've worked on some movie and commercial sets, as well as in the video dept. for our favorite baseball team. I've had jobs as a cameraman, as a wedding videographer, a director, production assistant, editor, cartoonist, writer, and even as an actor. Recently I was almost a reality-show star. That's a good story. These days I work as a high school film teacher. That's pretty rad. If you feel like hiring a well-rounded and creative guy for something, send me an email. Do it. Seriously. I'm available for hire. And milkshakes. I'm also available for milkshakes.
Someday in the future, I'll buy a nice house in California with a built in gym and a big backyard. Along the way I'll find myself a hot little wife who possesses both a great deal of feminine grace and a basic understanding and appreciation of baseball. Then we'll have a dozen or so kids. After that, I plan on retiring early, and living forever.
Until then, I'll just go about my daily routine.
Thanks for stopping by my site. Thanks for visiting my world. Thanks for reading me.
~Matt