Posts Tagged 'Opening Day'
6 results.
by Matt
on
April 8, 2009
at
12:00 am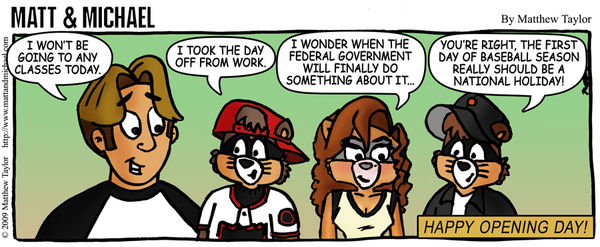 by Matt
on
April 7, 2010
at
12:29 am

Ahhh…baseball season! There's something magical about a new season of our nation's favorite past time. Throughout the history of our country baseball has always been a constant. Scoff at me if you wish for my love affair with this game, but "Opening Day" of baseball season is perhaps the most anticipated day on my calendar. [...]
by Matt
on
March 28, 2012
at
12:29 am

We're almost there people. Just a little more. Just one more week. We can do this. One more week and life begins anew. One more week and that beautiful and glorious game known as baseball season will begin it's yearly rebirth, thus freeing us from the shackles of the cold and miserable winter. And we, [...]
by Matt
on
April 4, 2012
at
12:29 am

Happy Opening Day baseball fans!! May our season be filled with homeruns, daring plays, flirtations with 98mph, and a good strike-out-to-walk ratio. Also, MATT CAIN!!!
by Matt
on
April 1, 2013
at
12:29 am