Posts Tagged 'vacation'
19 results.
by Matt
on
May 3, 2006
at
12:00 am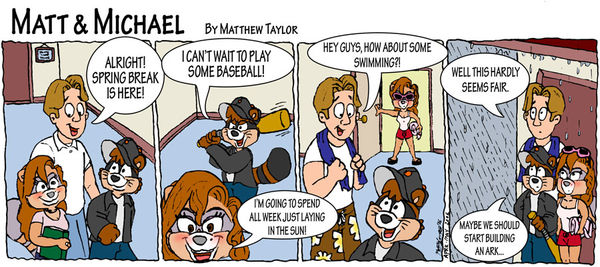 05/06/2006 – Added the last of the pencil tests to the "extras" section. Had a glass of milk. 05/03/2006 – This strip was made a little differently than any of the others as I wanted to try some different methods. In the end it had it's advantages and disadvantages. I'll probably stick with what I've [...]
by Matt
on
January 20, 2010
at
12:00 am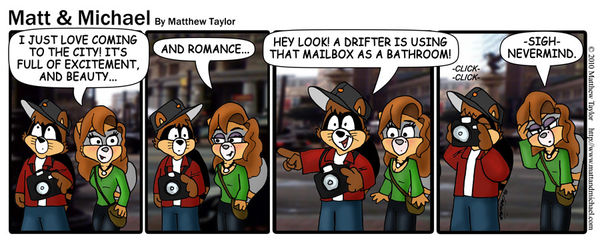 I ♥ SF. I really do love the city. The sights, the sounds, the excitement. There's just something magical about being there. I'm pretty thrilled that I recently moved back home to a state with a real city nearby. In fact, I've made it one of my goals to get better acquainted with the city [...]
by Matt
on
July 7, 2010
at
12:29 am

by Matt
on
January 4, 2011
at
12:29 am
Planning is a critical part of any vacation. Without it, you could end up in a big city with nothing to do but go to the Justin Bieber concert. I'm not speaking from experience, that's just one of the worst possible outcomes I could come up with.
by Matt
on
January 6, 2011
at
12:29 am

Not long ago, I was visiting Los Angeles. While there we went to an art showing at a relative's. I really wanted to fit into this Hollywood scene as best I could, so I put on my most expensive jeans, one of my classiest wide collared shirts, and tried to furrow my brow a lot. [...]
by Matt
on
January 7, 2011
at
12:29 am

Could I ever live in LA? There is a growing number of people who are plotting my relocation to the Los Angeles area. They think I would enjoy living and working there. I have mixed feelings. On the one hand, there are a lot of creative opportunities down there, and I DID study film in [...]
by Matt
on
January 10, 2011
at
12:29 am

I love Disneyland. I really do. I love the atmosphere and the energy, the traditions and the memories. I never seem to get tired of it. Over the years I've become a bit of an expert at the park, knowing how to maneuver in and out of congested foot traffic, and hitting all the best rides at [...]
by Matt
on
January 11, 2011
at
12:29 am

Remember back when Pirates of the Caribbean was just an awesome ride instead of an overblown movie franchise that got really, really bad halfway through the second installment? Ahh…those were the days. The ride of course is still there, and it is still a lot fun, but it has been modified from years past. These days [...]
by Matt
on
January 12, 2011
at
12:29 am

Ok. I'm not making this up. That right there is the actual image associated with all of the ride warning signs at Disneyland. I snapped that photo the last time I was there. I just can't seem to figure it out. What does it mean?? My best guess is that you are not allowed to [...]